Coronavirus update
Our showroom is closed until further notice. We will be updating this page weekly so please keep an eye on when this changes.
We understand that choosing flooring for your next project can be a touchy-feely kinda thing so we're very excited to announce the refresh of our upstairs boutique showroom at our Guru HQ in Aylesford, (just outside of Maidstone) Kent. With a re-thought floorplan and stand layout we've been able to fit a larger portfolio of products inside to display, without the compromise of walkway space.
We can go toe to toe with the "pile it high, sell it cheap" retailers as we have 1,000s of square metres of carpet in our warehouse but where we really stand out is if you are looking for something a little exciting, something that Mrs Trellis from number 32 won't have spotted in her local "normal" retailer. Flooring couture is our speciality and creating flooring envy comes as second nature to us.
No matter the size of your next install or your budget, a visit to our showroom is always recommended to see what options are available to you. We cover all price points, commercial or residential so you can rest easy knowing a trip to our HQ will not be wasted. We don't like to brag but we make a very good coffee you can try too! ☕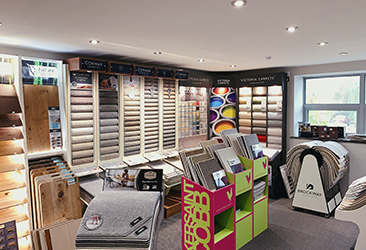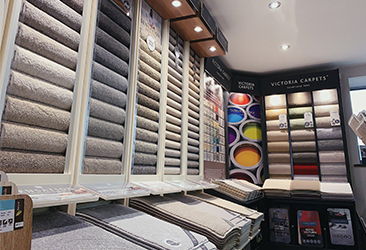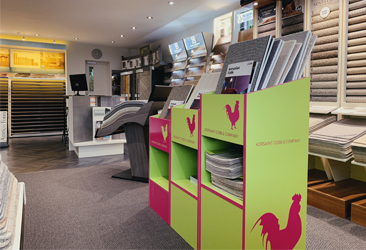 What products do you have on display?
We have large product stands of:
Carpet: Cormar Carpets, Edel Talenzo, Kersaint Cobb, Sedna by Associated Weavers, Victoria Carpets and more
Wood Flooring: Natural Solutions Wood Flooring, V4 Wood Flooring, Kersaint Cobb
Luxury Vinyl Tile: Amtico Signature, Amtico Form, Amtico Spacia, Flooring Megastore's Own Brand, Natural Solutions and Berry Alloc
Laminate: Quick-step
And we have large lecterns from:
Carpet: Associated Weavers (Vivendi Vibes & Soul), ITC Luxury Flooring & Edel Talenzo
Laminate: ELKA 8mm & 12mm
Underlay & accessories: Tredaire Underlay, Cloud 9 Underlay, Stairrods & CAT Bars
I want to visit! What's your address?
We operate everything from our warehouse in the New Hythe Business Park which is on Bellingham Way. Pop through the front door and you'll be directed upstairs to our showroom where a cup of tea or coffee will follow behind shortly with one of our Gurus to help you with your visit.
IMPORTANT: We strongly recommend using either Google Maps, Apple Maps or Waze as these will direct you straight to us. Older TomTom/Garmin Sat Nav units, if not updated to 2020 maps, will not direct you correctly to our address.
Click here to load up our address in a navigation app of your choice!
---
Location :
Flooring Megastore Ltd, Unit 9 Access 4.20,
New Hythe Business Park, Bellingham Way,

AYLESFORD
Kent, ME20 7HP