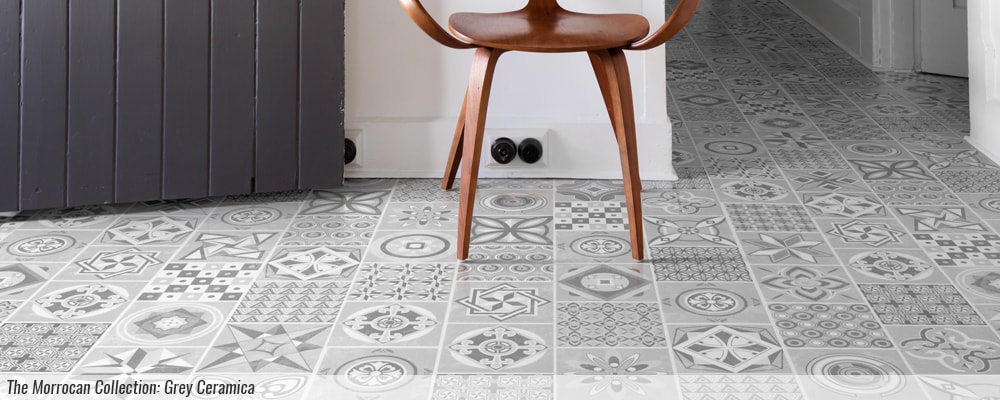 Moroccan Collection by Flooring Megastore
The product
This brand new range to Flooring Megastore for 2018 boasts significant features at an affordable price. Featuring a modern design pattern and look the Moroccan Collection is a perfect fit for a traditional Victorian home or a Coffee shop in a trendy High Street.
We have picked out three main unique selling points for this superb product:
Price
Most items purchased nowadays tend to come down to price and quality. Moroccan Collection is no different. The product starts at £35.30 per square metre and depending on quantities it can drop to as low as £32.34 per square metre. Compared to its competitors such as Amtico Decor or Karndean Kaleidoscope it's significantly cheaper. Decor starts at a whopping £150 per square metre and the Kaleidoscope averaging £50 - £80 per square metre depending on design.
Specification
Another important factor is the spec of the product. It's all well and good it being affordable, but can it stand up to the modern life? Well, in short, yes. The total thickness comes in at 4.2mm and the wear layer is 0.3mm. This means the product gets a heavy domestic rating so it's suitable for any room in the home! It can also be installed into a light commercial area such as the coffee shop mentioned above, for example.
Aesthetics
Funk up your life with the Moroccan Collection. Mrs Trellis at number 32 will be extremely jealous when she comes over for her afternoon tea. Without breaking the bank you can have the traditional Victorian Tile look that not only looks great but is functional too. Want to see how good it looks? Order up a sample from the product page.
See the Moroccan Collection by Flooring Megastore here.
Contact the Flooring Gurus if you have any questions by visiting this page - contact page.